About the Project
Songs for Ondine is a musical project with the goals of supporting research for a cure for CCHS (Ondine's Curse) and raising awareness of the condition.
Idea
Leo was born with a rare genetic disorder, Ondine's Curse. There was no cure in sight .
"He will lie in bed like this for the rest of his life", his parents were told. But they would not accept that reality and embarked on a difficult, multi-year battle for Leo to live a normal life.
Today the situation has changed. Research institutes in France, the United States, and Italy are working on a cure, and laboratory studies are underway. There's a chance that in just eight years, a cure will be on the market and that on his 18th birthday, Leo will receive a magic pill and begin to breathe. Money is needed to complete these studies.
By buying our album, you help us in succeeding this quest – it will enable normal breathing not only for Leo, but also many other children all over the world: Ana, Julek, Laura, Emilka, Wojtek, Kuba, John, Santino, Cassidy, Ahmed, Hans, Shiva, Lincoln, Elise…
Curse
CCHS (Ondine's Curse) is a rare and potentially fatal genetic condition. The main symptom of the syndrome is respiratory failure, especially during sleep. All CCHS patients require lifelong breathing support (some only while sleeping, others twenty-four hours a day), usually with a ventilator. In Poland, over 30 people suffer from the condition, and it affects approximately 300 globally. At present, CCHS is incurable.
More about CCHS you can find at website of our Foundation "Lift the curse".
Ondine Myth
Mythological Ondines are water nymphs, nereides, limnads, naiades and mermaids – all beings associated with water. Although resembling humans in form they lack a human soul, but she can acquire one by marrying a human. Such a union is not without risk for the man, because if he is unfaithful he is fated to die.
Those under the Curse must always remember to breathe in and breathe out. Forgetting to do this would result in death.
It became popular by a romance Undine by Friedrich de la Motte Fouqué, published in 1811,which was based on a passage in Paracelsus' Liber de Nymphis in which he relates how an ondine can acquire an immortal soul by marrying a human.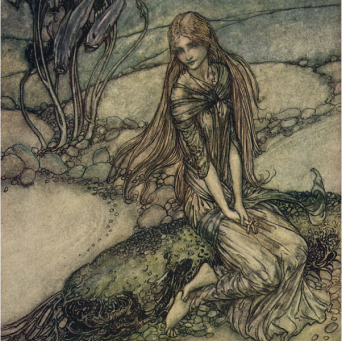 Thanks
We have spent six years working on this project. Ondinata would not have been possible without all the wonderful people we have been fortunate to meet along the way.
We want to thank our amazing team for their commitment and hard work.
The project was conceived thanks to Rafał. We spent so long waiting for someone like him to come our way.
Sebastian gave us the energy we needed to begin and set us off in the right direction.
Karol came up with the title and the graphic design: without his systematic approach, constructive criticism, and vigilance we wouldn't have got as far as we have.
Thanks to Kasia and Miłosz for their presence, for all their comments, for working nights, and for always being there for us.
Thanks to Veddie for getting on board the project and finding the time!
Michał Dilling – Dylo, you're where it all began!
We are also extremely grateful to Majka Sztenke, Maciej Ulewicz, Kamila Sidor, Julia Hueckel, Tomasz Hueckel Jr, Łukasz Chotkowski (for supporting us all the way), Iwona Szelezińska, Magda Pilecka, Klaudia Chmielecka, Dawid Karpiuk, Justyna Dilling, Obszana, Dorota Szelezińska, the Słoneczko Foundation for Persons with Disabilities, the Jaskółka Foundation for the Development of Civil Society, and the scores of others who have helped us on this long journey.
We are grateful to our sponsors and partners:
Polish Radio 2, TVP Kultura, Na Temat, Steinke Communication, Owls Department, CCHS Foundation, AFS Ondine, Atmos R
But, first of all, we would like to thank the Artists for agreeing to take part in this project and for all the emotion and dedication that shines through in their beautiful music and moving lyrics.
Listen to
selected tracks from the album
Donate
If you don't need our album, but still want to support our Polish CCHS Foundation? You can make a donation to support medical research on finding the cure for CCHS. Read more about the research.
You can make a money transfer directly to the account of our Foundation:
Polish CCHS Foundation "Lift the curse"
IBAN: PL 57 1140 2004 0000 3802 7917 8525
BIC/SWIFT: BREXPLPWMBK
or donate via Paypal:
Give a donation